I forget what I was looking for when I stumbled onto someone's home built arcade game on the internet. As having collected old arcade games the past, I thought "hmm.. that could be cool". I mean the problems in collecting old arcade games is that: 1. they are always breaking down, and 2. they take up lots of space.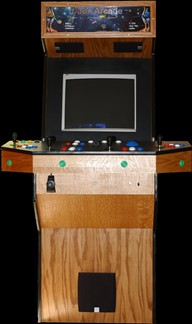 So using a PC and 1 cabinet to play all my old favorites seemed great. After playing with various software on the internet for a while I decided I just had to do this. If anything ever died it's just PC hardware and can easily be replaced. (E.g., no more debugging ancient circuit boards trying to find some problem to get some huge cabinet sitting in your house to actually work again). But I wanted my cabinet to be something that would look good and last. Hence I started surfing and deciding what to do.
Now I have to apologize right up front because there is a lot in the way of ideas and stuff that I was able to acquire from other peoples web sites. And I did not keep good notes as to all the sites that I used something from. So I thank everybody for posting all of their hard work to letting others benefit from it. That is in part why I've decided to post my own information as well.